29 Jan
Ahmadiyya Muslim Community's Annual Convention ends with commitment of loyalty to New Zealand
The 28th annual convention of the Ahmadiyya Muslim Community in New Zealand concluded on the eve of Saturday the 28th of Jan. This year's convention was attended by over 400 people over the two days, with representatives from Samoa, Australia, and Germany. The annual convention, or Jalsa Salana, is held worldwide to celebrate an annual gathering of the community members, first started by the community's founder Hadhrat Mirza Ghulam AhmadAS over a hundred years ago.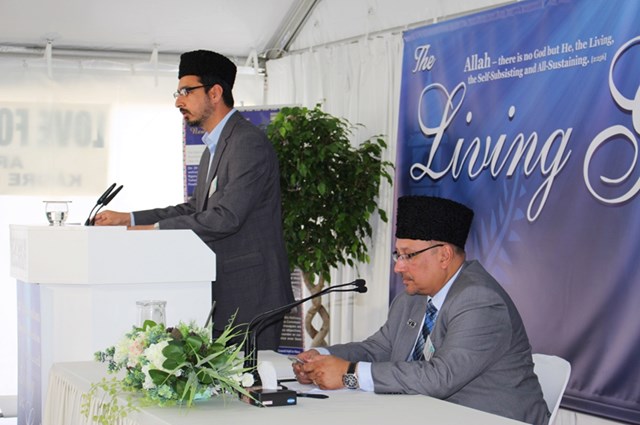 " We have purposely chosen 'The Living God' as the theme for this year's conference because religion is on the retreat. The effect of this means…. a selfish individualism is gaining strength in its stead even in such countries of the world as would otherwise claim to be religious." Says Mr Bashir Khan the National President of the Ahmadiyya Muslim Community New Zealand, while addressing the convention. "This community's prime responsibility is to carry on the mission for which its founder, the Promised Messiah(as), was commissioned … to remove the discontent that afflicts the relationship between God and His creatures and restore the relationship of love and sincerity between them…. [and to] bring about peace and manifest the Divine verities that have become hidden from the eyes of the world."
A special session held on Saturday the 28th January attracted over 60 members of the public, including Hon Julie Anne Genter MP. The guests had the opportunity to take a tour of the mosque and mix with the members of the community to find out first hand about the Islamic culture and teachings.
The Ahmadiyya Muslim community champions loyalty to ones country as an integral part of faith. Highlighting this aspect, Mr Bashir Khan advised the attendees of the convention saying, "New Zealand allows freedom of religion and speech. It accommodates other cultures and traditions without having to displace the Kiwi way of life. This very trait of acceptance is what is so unique and valuable for this country and one which should never be replaced by fear and intolerance. As loyal (Muslim) residents of this country, we strive to ensure that we contribute towards further enriching this country, by opening our doors to the other faiths, by educating and removing the vacuum which has been filled through ignorance and in most cases, removing the stigma of a brutal faith which has been created by the actions of a few."
The Ahmadiyya Muslim Community is a dynamic, fast-growing international revival movement within Islam. Founded in 1889 by Hadhrat Mirza Ghulam Ahmad (1835-1908) in Punjab, India, the Ahmadiyya Muslim Community spans over 206 countries with membership exceeding tens of millions. Its motto of 'Love for all and hatred for none' is evidenced through the peaceful actions of its millions of followers. The New Zealand branch of this community was established in 1987 and has now expanded to over 500 members. It is a registered charitable organisation and endeavors to be an active and integrated community within New Zealand society.
- by Dr Nadeem
in news, media-release