16 Oct
Head of Ahmadiyya Muslim Jamaat Delivers Historic Address in Melbourne
World moving towards devastating Third World War warns Hazrat Mirza Masroor Ahmad
The World Head of the Ahmadiyya Muslim Jamaat and Fifth Khalifa, Hazrat Mirza Masroor Ahmad delivered the keynote address at a Special Reception held at the Princess Court Reception Centre in Melbourne on the evening of 11 October 2013.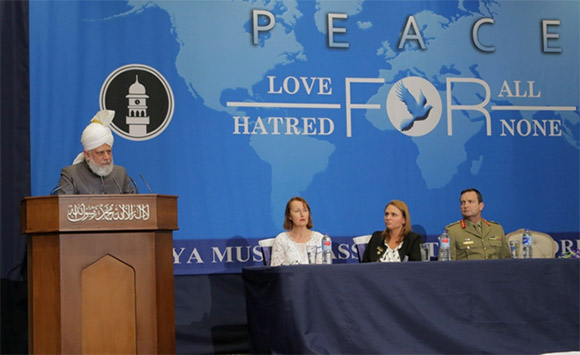 The event was attended by more than 100 non-Ahmadi dignitaries and guests, including Major-General Paul McLachlan, Mayor of Frankston, Sandra Mayer, Anthony Byrne MP, Judith Graley MP and Ingra Peulich MP.
During his keynote address, Hazrat Mirza Masroor Ahmad analysed in detail the major threats to modern day world peace including the so-called 'Arab Spring' and spoke of his serious concern that the world was increasingly at the precipice of a horrific Third World War. Thereafter, His Holiness outlined the pathway to peace based on true Islamic teachings.

Hazrat Mirza Masroor Ahmad began his address by explaining Islam's core teachings of mutual respect by saying:
"Human beings are the greatest of all of God's Creation and so Allah the Almighty desires for mankind to respect and honour one another. This is why the Holy Qur'an, which is the sacred book for all Muslims and according to our beliefs the final law-bearing book, is filled from cover to cover with commandments requiring mankind to fulfil the rights of one another."
During much of his address, Hazrat Mirza Masroor Ahmad addressed the causes and consequences of the Arab Spring. Describing the state of affairs in Libya following NATO's military intervention in 2011, His Holiness said:
"If we look at Libya we find that its governing officials, political analysts and media are all in agreement that tribal governments have now formed and consequently the central government is facing grave difficulties and is entirely weakened."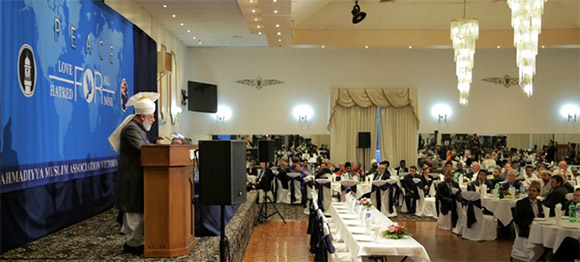 Moving on to the conflict in Syria, Hazrat Mirza Masroor Ahmad said that both the Government and the rebel forces were to blame for the disorder which has plagued Syria for more than two years. Regarding recent developments, His Holiness expressed relief that military intervention did not take place as was recently threatened. He also articulated a hope that those tasked with destroying Syria's chemical weapons were successful in entirely eliminating them.
Regarding the grave dangers of a foreign military intervention in Syria, His Holiness said:
"It is entirely accurate to suggest that an attack on Syria will be a means of provoking a Third World War and if we want to avoid it then policy makers will have to make decisions with wisdom and with great consideration."

In a detailed analysis, Hazrat Mirza Masroor Ahmad outlined a roadmap to peace based on Islamic teachings. He quoted verse 10 of chapter 49 of the Holy Quran imploring peacemakers to act with justice at all times. With regret, His Holiness noted that such an approach had not been forthcoming.
Speaking about how the Muslim world had failed to come together to solve the Syrian crisis, His Holiness said:
"In reality it was the task of the Organisation of Islamic Conference (OIC) to unite together and work towards peace in the region. However rather than assume their duties the Muslim countries invited Western countries from outside the region to try and bring peace or perhaps the Western countries chose to invite themselves."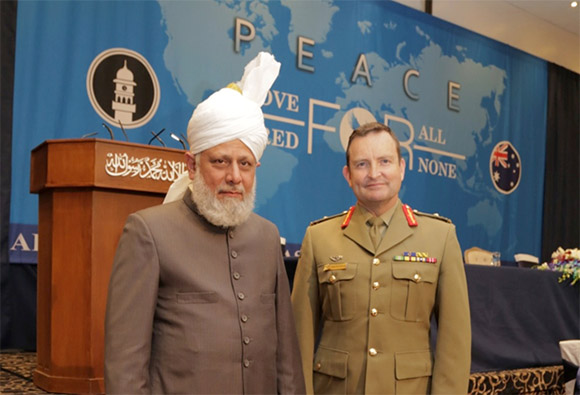 Hazrat Mirza Masroor Ahmad said that the Syrian conflict ought to be solved through diplomacy and negotiations without pre-conditions. He said:
"It should not be that those tasked with establishing peace demand regime-change as a necessary pre-condition and that they then hand a particular group the keys to government."
His Holiness appealed for justice at all levels by saying:
"Where decisions are made according to true principles of equity and where the rights of all people are fulfilled only peace and harmony will be found and this golden principle given by the Quran is not only for Muslims, but in fact it is a universal truth that in order to establish peace, justice must prevail."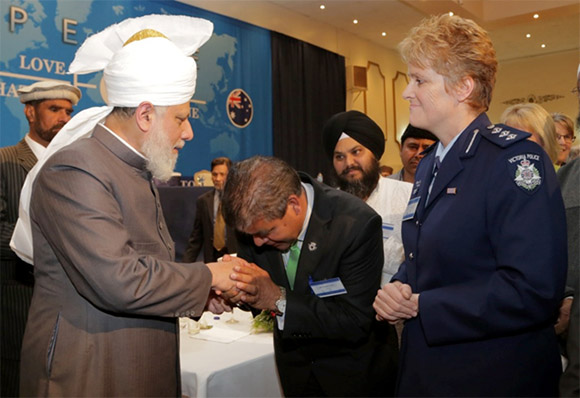 Hazrat Mirza Masroor Ahmad concluded his address by reiterating his fears of a global war and appealed to the leaders of Australia to work towards peace.
His Holiness said:
"I request all of the influential figures in this country, be they politicians, dignitaries or intellectuals, to recognise that because Australia is also one of the major countries of the world, they too should play their respective roles in making every effort to transform this state of disorder and injustice into a state of peace and harmony. May it be that your future generations come to thank and pray for you rather than curse and abuse you for the legacy left behind."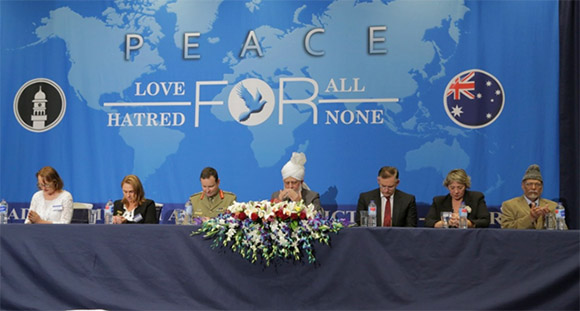 Earlier in the evening a number of dignitaries also addressed the audience including Major-General Paul McLachlan who said:
"The Australian military is our country's final resort against tyranny and extremism, whilst the message and teachings of His Holiness (Hazrat Mirza Masroor Ahmad) and the Ahmadiyya Muslim Community should always be our first resort. Certainly, the Ahmadiyya philosophy advocates peace and respect throughout the world and thus is an example for all."
Mayor of Frankston, Sandra Mayer welcomed Hazrat Mirza Masroor Ahmad to Australia. She added:
"Your message is of 'Love for All, Hatred for None' and if all people followed this then there would be no wars and only peace in the world."
Federal Member of Parliament, Anthony Byrne MP said:
"We are all very impressed by Ahmadi Muslims because they promote dialogue and always seek to benefit their local communities. I wish His Holiness (Hazrat Mirza Masroor Ahmad) well not just during his stay in Australia but for the rest of his life."
Judith Graley, State MP said:
"The Ahmadiyya Muslim Community have become very close friends of mine. In particular I have developed a close relationship with a number of female Ahmadi Muslims. Your message of 'Love for All, Hatred for None' resonates with both my soul and my mind and I wish it is spread far and wide."
Ingra Peulich, State MP said:
"His Holiness (Hazrat Mirza Masroor Ahmad) is a leader who teaches peace and so it is an honour to welcome him to Australia. Being associated with the Ahmadiyya Community is integral to the success of our society."
Upon the conclusion of the event, Hazrat Mirza Masroor Ahmad met personally with non-Ahmadi guests many of whom expressed their appreciation at the keynote address and requested a photo with the spiritual leader.
22 Deer Park Road, London, SW19 3TL UK
Tel/Fax: 020 8544 7613 Mob: 077954 90682 Email: [email protected]
- by
in news, media-release