01 Jan
Hundreds of Muslims gather for Peace Conference in Manukau
Hundreds of Ahmadi Muslims are gathering in Manukau for the 23rd Annual Religious Conference on Saturday January 28.
Mr Mohammad Iqbal, National President of the Ahmadiyya Muslim Community, believes that the current phase of political, social and financial instability across the globe has a direct correlation with the lack of justice, fairness, inequitable spread of wealth and loss of true religious values.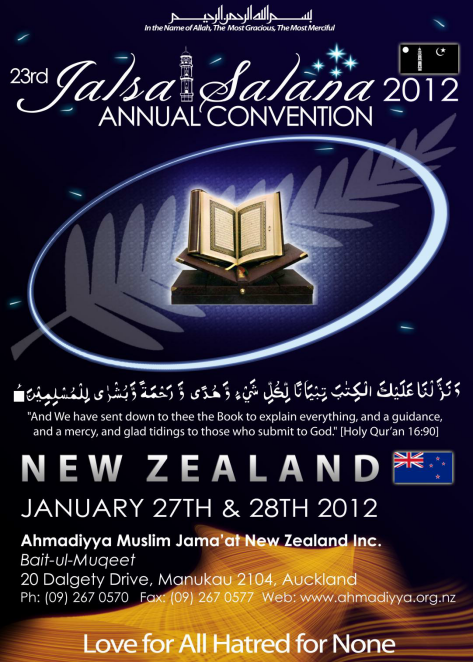 "It is important for New Zealanders to understand that we are not isolated from the troubles of other major nations, and we must look within ourselves to ensure that our own values and practices do not create an imbalance which deprives any one sector of our community. We have to be fair and just in our dealings at all levels to ensure that we as a nation strive to foster peace and harmony through tolerance and respect for each other", Mr Iqbal says.
In a special session for guests and delegates starting at 10:30am, chief missionary Maulana Shafiq-ur-Rehman will address this issue and explain how the Holy Qur'an has the answers to today's issues.
"Islam is a faith which provides a complete code of life, revealed to the Holy Prophet of Islam (peace be upon him)," Mr Rehman says. "In all dealings a Muslim should act with respect, honesty and fairness towards others. This is the basic underlying commandment."
The Ahmadiyya Muslim Community is a religious organisation, international in its scope. It is acknowledged worldwide for its sincere efforts to promote peace.
The annual convention is celebrated internationally with tens of thousands of participants in countries including Australia, England, Germany, Canada and the United States of America.
"The primary purpose of this convention is to help people personally experience religious benefits and enhance their knowledge," Mr Iqbal says. "Our aim is to educate people on the true teachings of Islam in order to lessen ignorance and by extension violence, misunderstanding and mistrust."
The convention will be held at 20 Dalgety Drive, Wiri Manukau on Saturday, January 28 starting at 11:30am. The event is open to the public with refreshments and lunch provided by the Ahmadiyya Muslim Community.
- by webadmin
in news, media-release